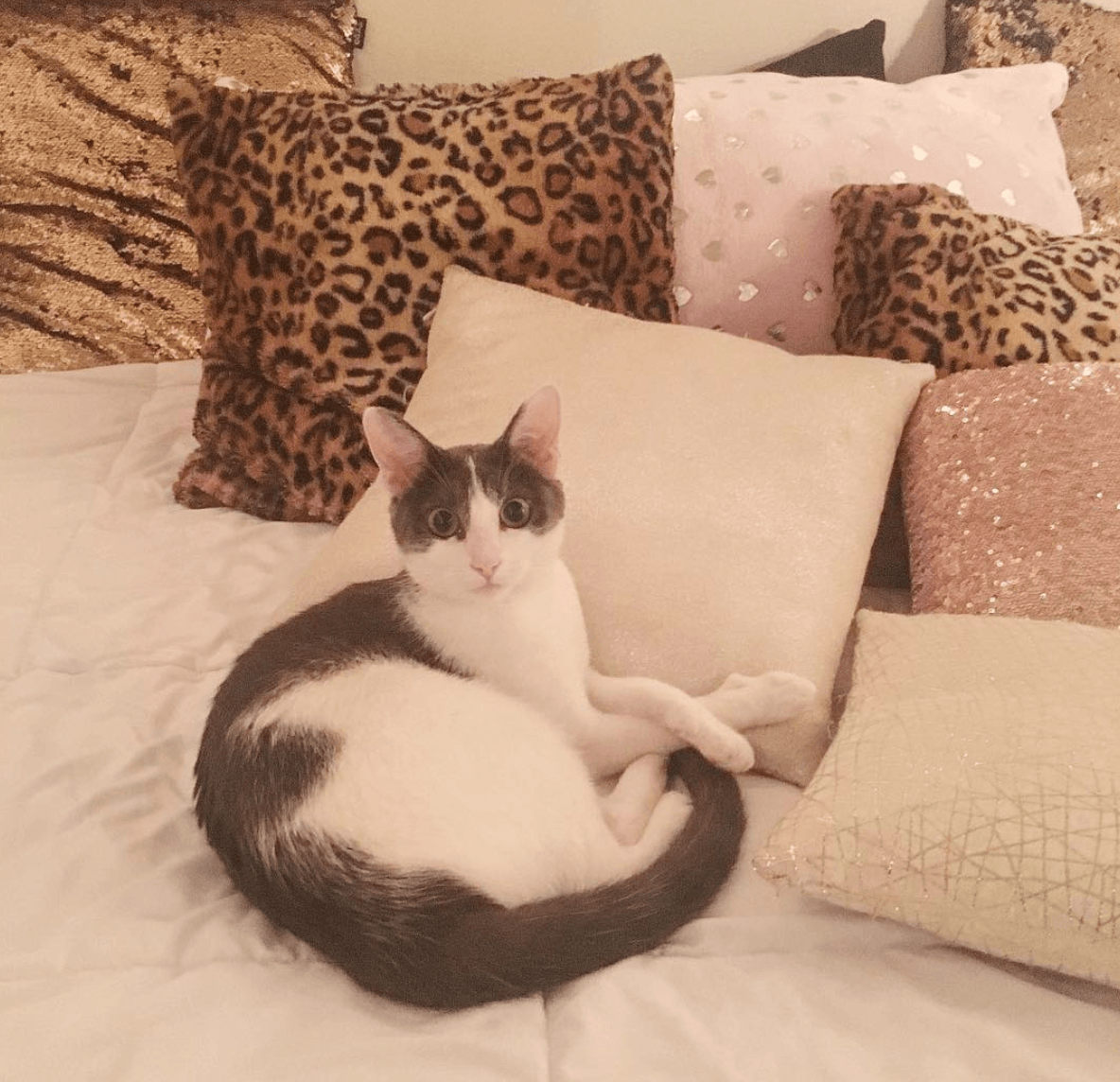 Though we don't speak the same language, Sabrina Spellman has been my partner in crime for the past three years. I grew upin a small apartment that didn't allow pets, so I've never had one before. As the best things in life aren't planned, this was the case for our new friendship. And now, evenon the worst days, coming home to those wide eyes and snuggles makes everything better.
From a Music Festival to my Studio Apartment
About three years ago, my best friend Alexandria was driving back from a music festival when she thought she heard meowing from her car. Convinced she was going crazy due to lack of sleep, she pulled over into a Baskin Robbins and asked a family to get another set of ears on her meowing car. There was in fact, a tiny feline in the engine of the car! A kind man helped get her out of there. "I Expected her to run away, but she sort of just sat there and stared at everyone". My friend scooped her up and drove her back home, but wasn't able to keep her since she was allergic. 
She reached out to me and asked if I wanted a sweet kitten. I was 24 at the time and just got my own apartment, so I felt I had to decline since I didn't think it was financially responsible. So she reached out to Beach City Kitties in Venice and they took her in for adoption. But Beach City Kitties wasn't quite ready to take her in, and my friend Alex was going to San Francisco for a weekend. She asked if I could watch her for a weekend. I agreed. 
Oh man, it was game over. I completely fell in love. Since she was technically already adopted from Beach City, I went to their adoption event and went straight for her. We have been best friends ever since. We've even had professional portraits taken together! 
As far as the name goes, Sabrina the Teenage Witch was my favorite show growing up and made me want to write for TV. In the show, Sabrina Spellman is half mortal, half witch. Many of the parallels in the show highlight how she doesn't feel she fits in with either. Growing up half hispanic, I related to the show deeply. Fun fact, my professor from UCLA Barry Vigon used to write for the show and I got to pick his brain about it and tell him about my own Sabrina Spellman. 
Growing Pains
Given that I had never owned a pet before, there was certainly a learning curve with Sabrina. It took some time and lots of trial and error to find products that were a fit for both of us. I have a tiny (but awesome) studio in West LA that has carpet, so having a litter that doesn't track and keeps odor under control is a must. Thanks to PrettyLitter, I never have to worry about litter tracking all over the carpet or having to deal with the odor in a small space!