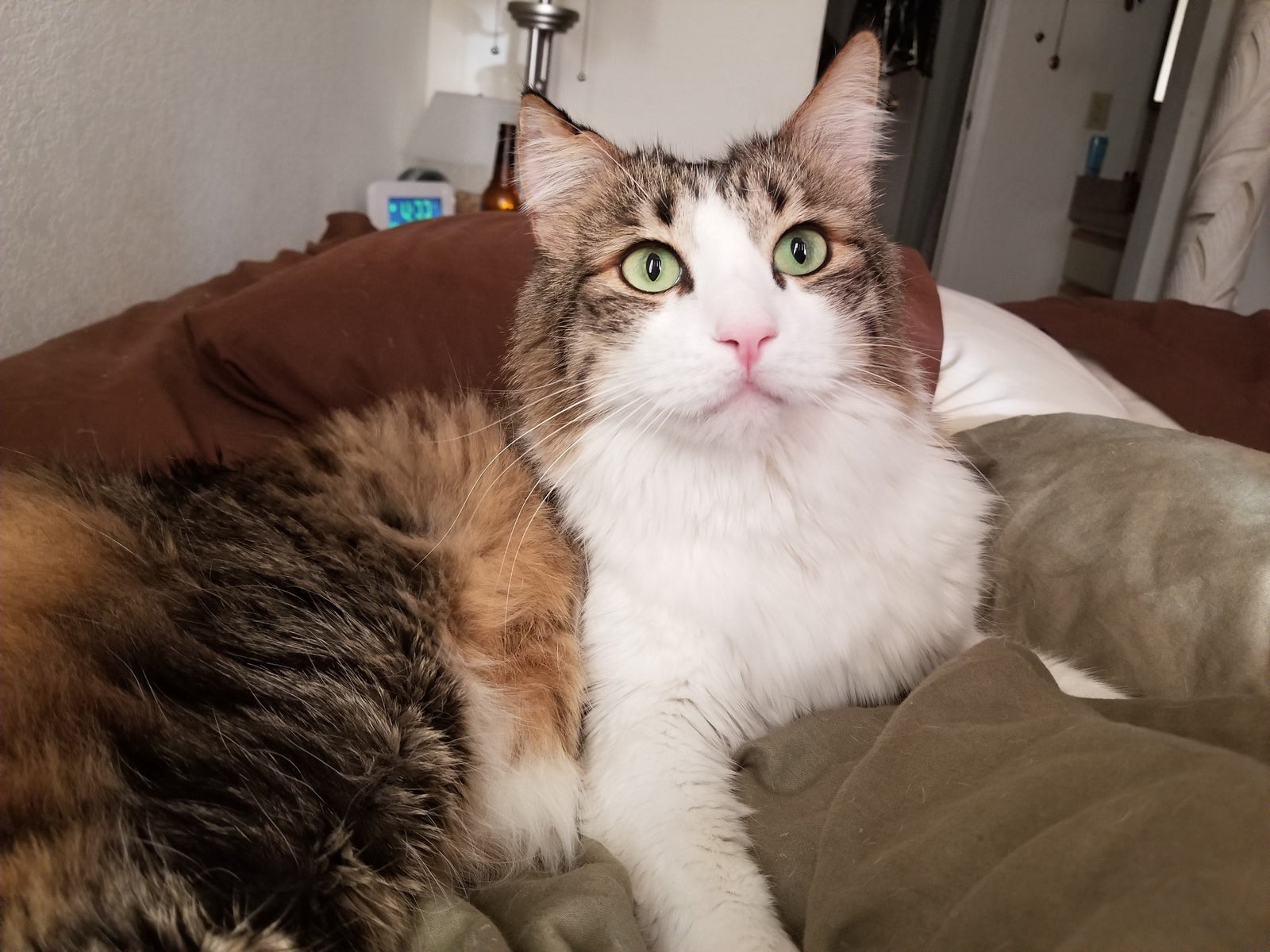 We talked to PrettyLitter subscribers Bri and Ethan V. about Gus and here's what they had to say:
Ethan had recently moved to Phoenix, AZ and was about to get on the highway, when he heard a loud sound coming from outside the car. He turned down the radio and heard the same unsettling sound again. Having cars behind him, he had to get on the highway, but couldn't shake the feeling that there was something wrong, and decided to get off at the next exit to circle back to where he had heard the original sound.
He pulled over, parked his car on the side of the road, and listened for that strange noise again. He finally heard it and realized it was coming from a sewer drain on the side of the highway entrance ramp. It continued getting louder as he approached it, so he used the flashlight on his phone to see what was down there making this awful, distressing call. As he did this, he saw a pair of eyes light up, and without hesitation, he reached his hand down and a tiny kitten latched onto his entire arm as he pulled it out of the sewer drain to safety. This pitiful kitten was completely filthy and malnourished, but seemed instantly relieved that Ethan had helped him.
He immediately brought the kitten to the vet to get him checked out, and brought him home later that night to clean him up. He was so dirty that he originally looked like an all black kitten, but as the filth washed away, it revealed his gray tabby pattern with a big white chest and a cute, little pink nose. He could instantly sense the strong bond between them and knew he had to keep him and decided to name him Gus. 
A year after finding Gus, Ethan and I started dating and he introduced me to him. Not only did I instantly fall in love with Gus, but hearing how he came to find and save him, made me start falling in love with Ethan too. Fast forward to seven years later, and we have moved from Phoenix to Ohio with Gus and adopted two small dogs along the way. We are both so grateful not only that Ethan found Gus that day, but to add other animals in need to our small, growing family!
One Fun Fact About Gus
When we start to sing, he joins in.
Cat(s)' favorite past times:
Eating bugs and plastic.
Most mischievous behavior: 
Eating and then regurgitating my precious houseplants.
If your cat could have one thing unlimited for the rest of time, what would it be?
Tuna for every meal for the rest of his life.
Thank you for sharing your story Bri, Ethan, and Gus!
Curious about the revolutionary litter that's giving these cat parents real peace of mind? Try PrettyLitter today!